You've sustained personal injuries in an accident—the last thing you should have to worry about is your attorney's intentions. Sadly, not every car accident lawyer is looking out for their client's best interest. From being tone-deaf to people's misfortune, to downright predatory marketing, these attorneys fit the stereotype of ambulance chasers.
At Kane Personal Injury, we hold ourselves to the highest professional standards, and unethical lawyers are one of our biggest pet peeves. They give all personal injury lawyers a bad name by treating suffering clients poorly. Their bad behavior is…well, "icky," for lack of a better word. And it starts with their advertising, and how they go about getting new clients.
Being seriously injured or losing someone in an accident can be one of the worst times in a person's life. Knowing how to spot an unethical attorney can keep a bad situation from getting even worse.
Crossing the Line to Get Personal Injury Clients
Imagine being at the hospital where a loved one is fighting for their life, or sitting at home after they've just passed away after a car crash. Your phone receives a message, and it's a personal injury attorney who somehow knows what's happened. They're soliciting their services to file a lawsuit and possibly making big promises about how much money the case is worth.
Believe it or not, this really does happen! Aside from being in poor taste, it is highly unethical, and possibly illegal. The sad part is that during these tragedies, people are vulnerable. They might feel confused or pressured, and make decisions they wouldn't normally make.
The following approaches to marketing and soliciting clients are red flags for unethical behavior:
Unsolicited Contact
Police reports are public record, so anyone can get them. Whether a lawyer goes looking for this information or finds out about it in some other way, they can not use the information to make direct contact with a victim. This means not showing up in person at the person's home or at the hospital. Phone calls, emails, and texts relating to the crash are off limits, too. Both New Mexico and Texas have rules against this. (There is an exception if the victim is a family member, another attorney, or a current or past client.)
Paying a Third Party for Contact
In many states, it is acceptable to pay a company or individual to contact victims of recent accidents and offer a law firm's services. But in 21 states and the District of Columbia, it is illegal. People who do this for lawyers are often called "case runners," "cappers," or "solicitors."
The State Bar of Texas strictly forbids this practice. Anyone (lawyer or third-party) who makes direct contact to solicit a victim is subject to a $10,000 fine.
In New Mexico, there is no specific law preventing the practice, but lawyers still need to tread lightly. They can, for example, pay to be included in a directory or legal service group advertisements identifying their areas of practice. They can not, however, pay anyone to specifically recommend their services to an individual.  
High-Pressure Techniques
Victims can be pressured into thinking that time is running out to file their case. Or a lawyer might claim to have inside information that is the victim's only chance of getting compensation. 
Scare tactics like these are highly unethical. Statutes of limitation give victims a fair amount of time to file a claim, for example. In Texas, the statute is two years; in New Mexico it's three. And it's unlikely that one attorney would know facts about a case that aren't available to anyone else. 
If a personal injury lawyer acts aggressively or is overly persistent, it could be considered coercion, duress, or harassment. 
Other Ways to Spot Unethical Marketing By Personal Injury Lawyers
There are other ways that unethical attorneys will use when marketing their services. While these are not illegal, they are signs that a lawyer might be deceptive.
Sometimes clients won't realize that a lawyer is unethical until after they have already hired them. Some behaviors to watch out for are:
Not showing up for meetings.

Missing deadlines.

Incorrect paperwork.

Not disclosing conflicts of interest.

Unprofessional language or behavior.

Making decisions without your input.

Not

keeping you informed

about your case.
Any of these behaviors—or being dissatisfied in any way—is reason enough to start looking for another attorney. Clients should be satisfied with the services they receive regarding their case.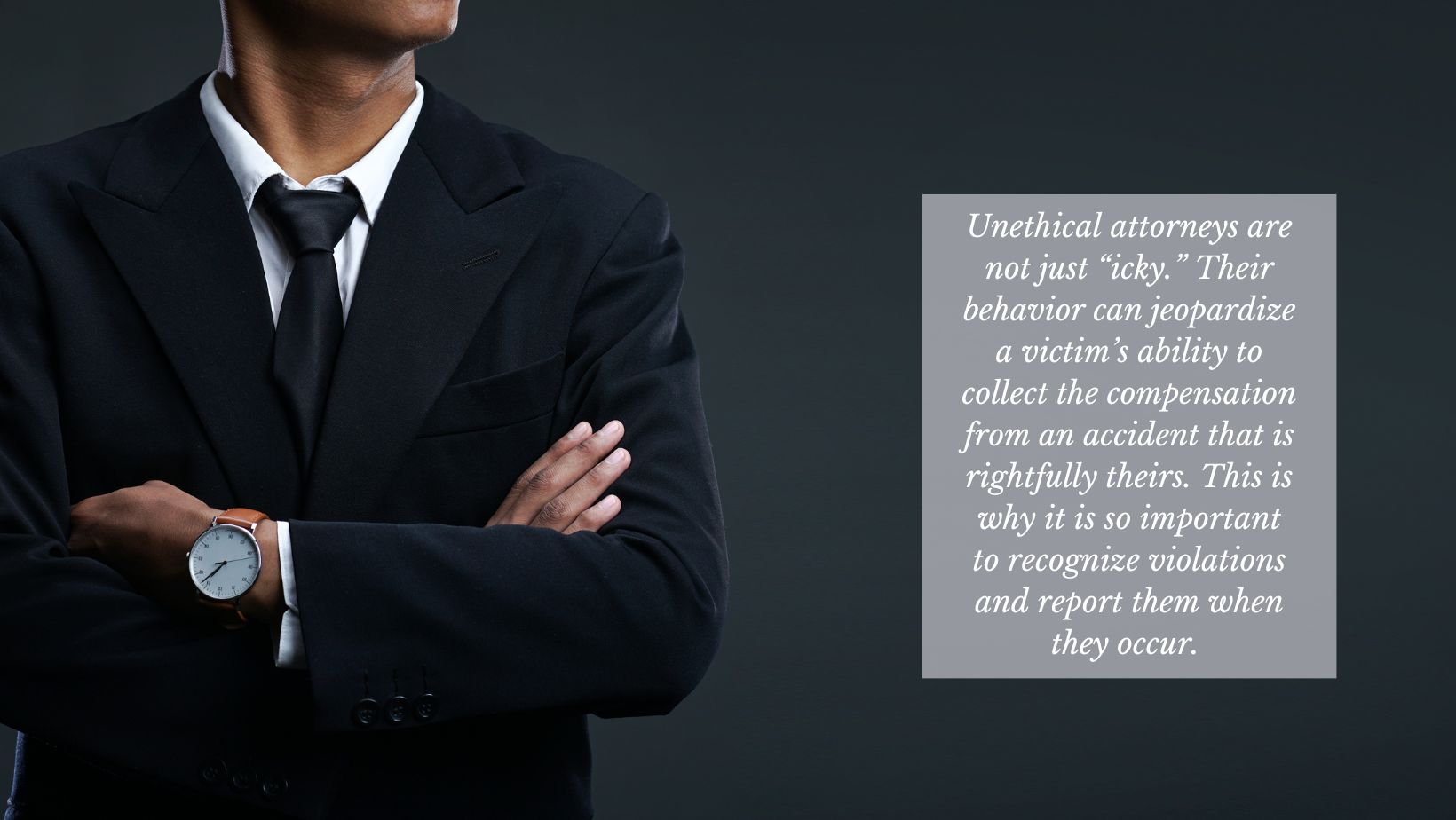 Recognizing and Reporting Ethics Violations
Unethical attorneys are not just "icky." Their behavior can jeopardize a victim's ability to collect the compensation from an accident that is rightfully theirs. This is why it is so important to recognize violations and report them when they occur. 
The State of New Mexico Judicial Standards Commission provides a downloadable complaint form. 
The State Bar of Texas Office of the Chief Disciplinary Counsel offers an online grievance portal.
Look For These Things in a Personal Injury Attorney
Despite the urgency someone might feel right after you've been hurt, it is important to find an attorney who cares and who will work hard to see your case through to a successful conclusion. As a crash victim, you should be able to focus on your recovery without worrying whether your attorney is on the up-and-up. 
Look for someone who does the following:
Answers all questions clearly and to your satisfaction.

Asks insightful questions to find out how you are and what you need.

Shows understanding, sensitivity, and empathy to your situation.

Communicates frequently.

Is honest about the merits of the case and what to expect.
At Kane Personal Injury, we advocate for clients across New Mexico and Texas every step of the way, fighting for their rights. Most importantly, we do it honestly and ethically. Contact us today to discuss your case.