Slip-and-fall accidents on buses can be unexpected and distressing, leaving victims with injuries and uncertainty about what to do next. In our experience, there are several things that go into the next steps after slip-and-fall accidents on buses: Understanding the legal process, outlining potential compensation, and sharing preventive measures to help you stay safe.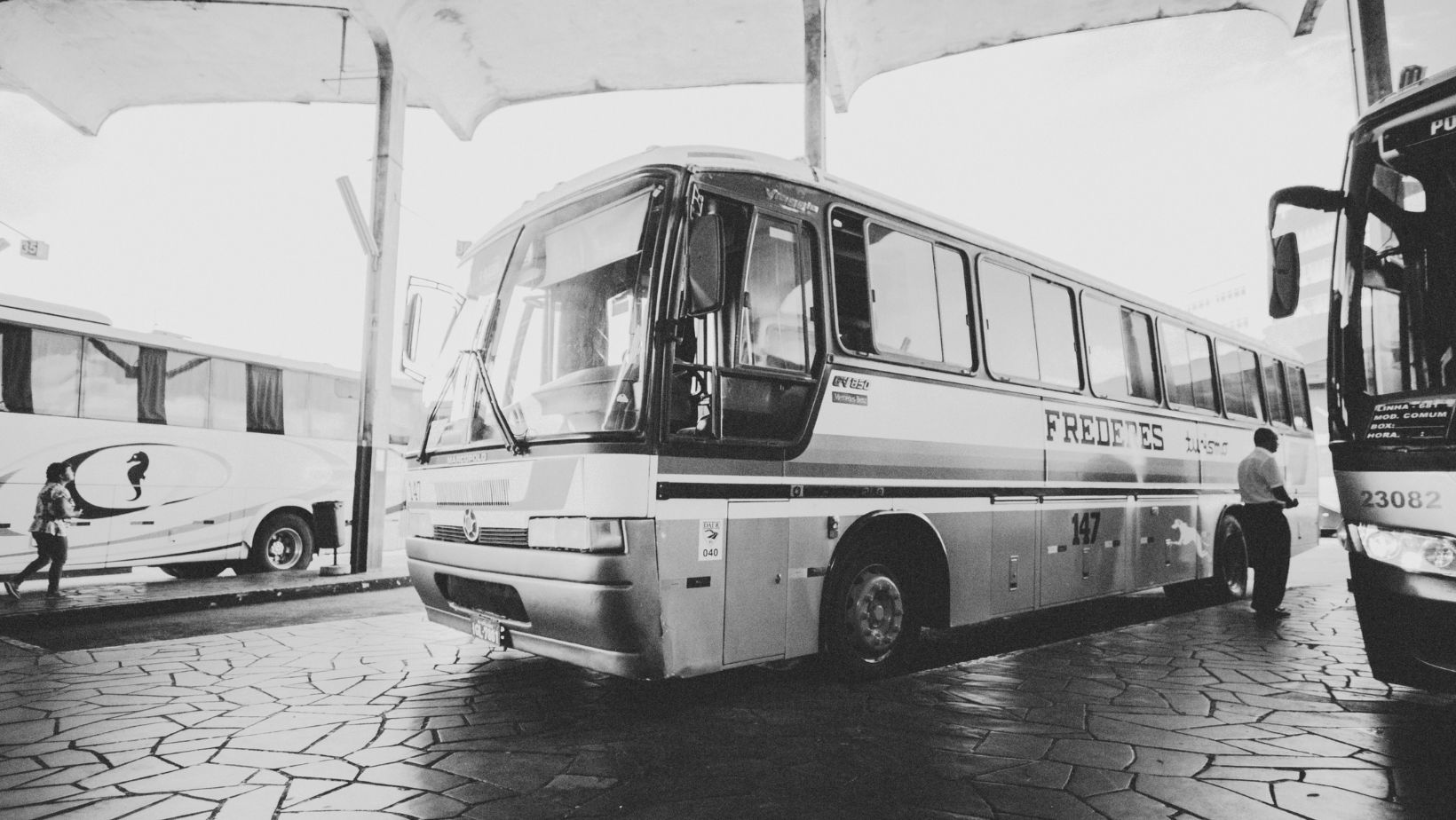 Image by Johnathan Borba
Understanding the Legal Process for Slip-and-Fall Injury Claims
Navigating the legal system can be intimidating, especially if you're unfamiliar with legal terms and concepts. Here's a simplified overview of the steps involved in filing a slip-and-fall injury claim:
Seek medical attention: Your health is the top priority. Always consult a medical professional immediately after an accident to assess and document your injuries.
Consult a personal injury attorney: Contact an experienced attorney to discuss your case and determine the best course of action.
File a claim after a bus accident: Your attorney will help you file the necessary paperwork and initiate the legal process.
Collect evidence: Your legal team will gather as much information as possible, including photographs, witness statements, and bus details.
Negotiate and settle or go to trial: Your attorney will work on your behalf to negotiate a settlement or represent you in court, if necessary.
Common Causes of Slip-and-Fall Accidents on Buses
Understanding the common causes of bus slip-and-fall accidents can help you identify potential hazards and seek compensation for your injuries. Some frequent reasons for such incidents include:
Wet or slippery floors. Spills, precipitation, or poor maintenance can create hazardous conditions on bus floors, leading to slip-and-fall accidents.
Wet or icy steps. In bad weather, the step leading into/out of a bus can become slippery as well, which can mean a slip-and-fall onto the pavement.
Sudden stops or turns. Unexpected braking or sharp turns can cause passengers to lose their balance and fall.
Obstructed walkways. Items or debris in the aisles can pose a tripping hazard for passengers.
Poor lighting. There needs to be sufficient lighting to make it easy for passengers to see and avoid potential hazards.
Potential Compensation for Slip-and-Fall Injuries on Buses
Victims of slip-and-fall accidents on buses may be entitled to various types of compensation, depending on the severity of the injuries and the circumstances surrounding the incident. Some examples of potential compensation include:
Medical expenses: Reimbursement for treating your injuries, including hospital bills, medications, and ongoing care.
Lost wages: Compensation for any income lost due to your injuries.
Pain and suffering: Monetary compensation for the physical pain and emotional distress caused by the accident.
Loss of enjoyment: Compensation for the diminished ability to enjoy life due to your injuries.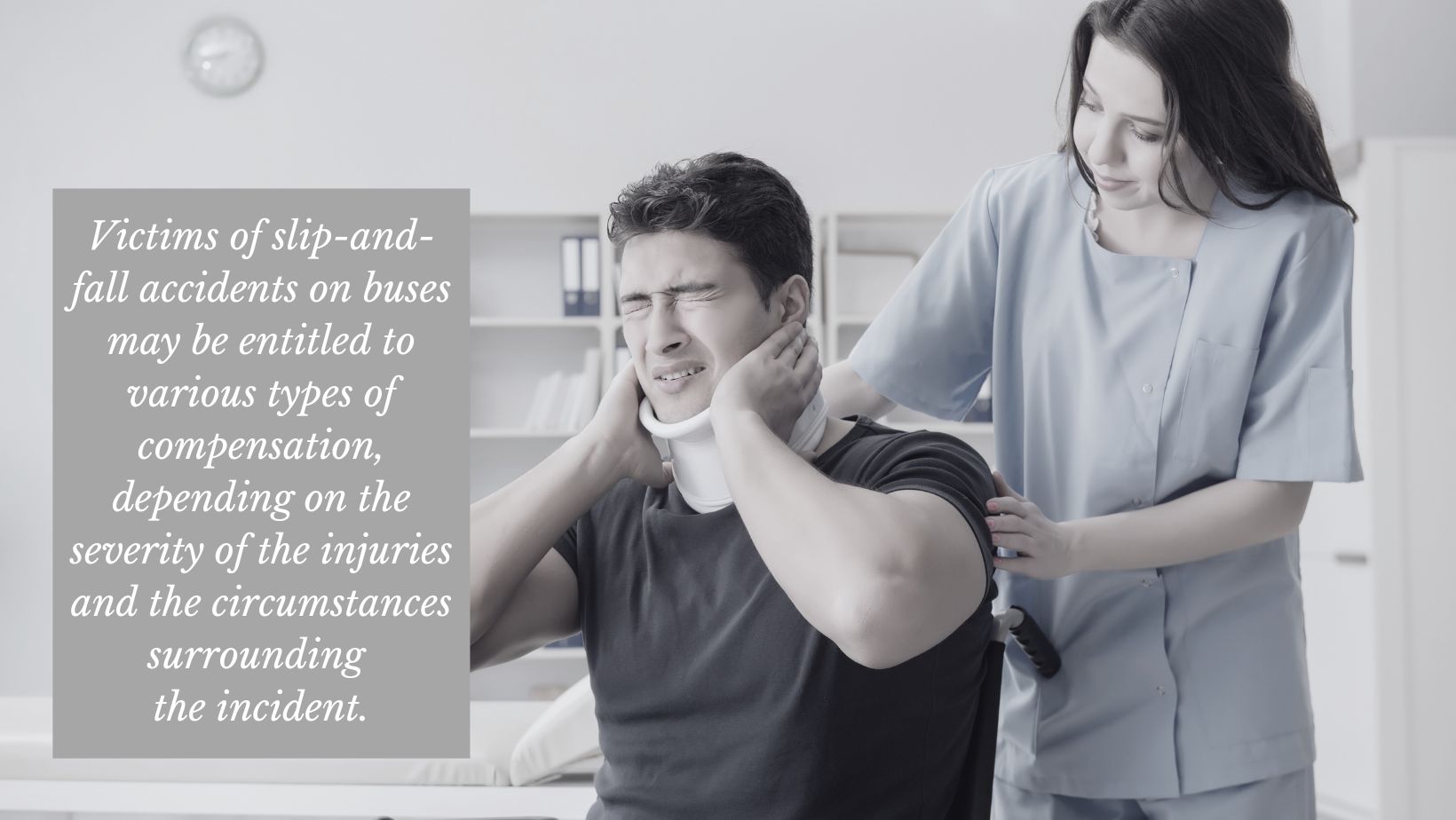 Image by Elur by Canva.com
The Importance of Acting Quickly: Statute of Limitations
In personal injury cases, time is of the essence. Each state has its statute of limitations, which sets a strict deadline for filing a claim after a slip-and-fall accident on a bus. This deadline could mean losing your right to seek compensation for your injuries. 
As a general guideline, in New Mexico the statute of limitations to file a personal injury case is three years from the date of the accident. Likewise, if you have a loved one who died from injuries in an accident, you have three years from the date of the victim's death—but this should be filed as a wrongful death action.
A slip and fall accident on (or while entering) a city bus can mean pursuing a claim against a government entity—usually a city or county. To make a claim against a government entity, you have two years from the date of the accident, which includes a 90-day tort claim notice.
Three years, or even two years, might seem like a lot of time…but it will pass by more quickly than you know, and the sooner you can gather evidence, the better. Act quickly and consult with a personal injury attorney as soon as possible to ensure your case gets handled promptly.
How a Personal Injury Attorney Can Help
Navigating the legal system can be complex and overwhelming, particularly when recovering from a slip-and-fall accident. A skilled personal injury attorney can provide invaluable assistance by
Evaluating Your Case and Compensation Potential
A personal injury attorney begins by evaluating your casein this instance a slip-and-fall accident on a bus—assessing its merits, and determining the potential for compensation. This initial step helps you understand the strength of your case and the likelihood of a successful outcome.
Gathering Evidence and Building a Strong Case
An experienced attorney will gather essential evidence and build a solid case on your behalf. This may include obtaining witness statements, securing surveillance footage, and consulting with experts, ensuring that you have the best-possible chance of winning your case.
Negotiating with Insurance Companies and Opposing Parties
Insurance companies and opposing parties can be difficult to deal with, but a skilled personal injury attorney can handle negotiations effectively. They will work to reach a fair and favorable settlement, without the need for a lengthy court battle.
Representing You in Court
If your case proceeds to trial, your attorney will represent you in court. Their legal expertise and knowledge of court procedures can make a significant difference in the outcome of your case.
Guidance Throughout the Process
Your personal injury attorney will keep you informed and guide you through each step of the process. They will answer your questions, provide updates on your case, and ensure you understand your legal rights and options.
By enlisting the help of an experienced attorney, you can focus on your recovery while your legal team handles the complexities of your case.
Preventive Measures to Stay Safe on Buses
While accidents can happen even in the safest conditions, taking proactive steps to protect yourself can reduce the risk of slip and fall injuries on buses:
Hold onto handrails when boarding, disembarking, or moving around the bus.
Pay attention to your surroundings and potential hazards, such as wet floors or obstructed walkways.
Choose a seat when available and remain seated until the bus comes to a complete stop.
Report any hazardous conditions to the bus driver or transit authority.
Taking Action: Contact a Law Firm for a Free Consultation
If you've experienced a slip-and-fall accident on a bus, it's essential to seek legal guidance to understand your rights and explore your options for compensation. Don't hesitate to contact our law firm for a free consultation, where our experienced attorneys will assess your case and provide personalized advice tailored to your unique situation. You deserve justice, and we're here to help you every step of the way.
Don't let a slip-and-fall accident derail your life—reach out to us today, and let's work together to make things right.