There is nothing scarier than being in a car accident with a child in tow. But even after the dust has settled and everyone is healed, it's easy to wonder if your child could be in danger just by getting back into the same car seat. 
Replacing a child's car seat after a crash isn't required by law in New Mexico, and there is no official inspection to determine if a car seat is still safe. Crash damage is not always visible though, so parents must rely on safety guidelines to protect their children while on the road.  
Check With the Manufacturer of the Child's Car Seat
Usually, the car seat manual will mention if a car seat needs to be replaced after an accident. If the information can't be found or you no longer have the manual, it's best to contact the manufacturer by phone to explain what happened. Based on the model of the car seat and the severity of the accident, they should be able to tell you if it needs replacing.
Car seat maker Graco, for example, recommends replacing the car seat after any type of accident, stating: 
"Even if there appears to be no damage to the car seat on the surface, the impact and force of a collision can cause unseen internal structural damage to your car seat. Any such damage may prohibit your car seat from properly protecting your child in the event of a sudden stop or crash."
Consider National Safety Recommendations
The National Highway Traffic Safety Administration (NHTSA) recommends replacing a child restraint whenever it is in a moderate to severe crash. As long as it is in a minor accident that meets all of the following criteria, the organization says it's not necessary to replace it.
The vehicle was able to be driven away from the crash site

The vehicle door nearest the safety seat was undamaged

There were no injuries to any of the vehicle occupants

The airbags (if present) did not deploy

There is no visible damage to the safety seat
The organization bases its recommendations on recent research from The Insurance Corporation of British Columbia (ICBC) that showed low-impact crashes don't cause car seat damage. In their study, nine new and used child seats restraining 3-year-old dummies were subjected to 50 consecutive 9 mph collisions into a concrete barrier. Here is what happened:
Three seats were inspected visually and no damage was apparent.

Three seats underwent x-ray inspection and no damage was detected.

Three seats were tested in accordance with Canadian Federal standards (CMVSS 213) and were found to be in compliance with all safety standards.
So, a minor crash like bumping into someone while pulling out of a parking spot probably hasn't damaged the car seat. Something more serious at a higher speed should cause more concern.
Will Insurance Replace My Car Seat?
Some states, such as California and Illinois, require insurance companies to replace a child's car seats after an accident. Even though New Mexico car seat laws don't require it, many insurers still pay for new seats under comprehensive and collision coverage. Progressive, for example, says when filing an auto insurance claim, customers just need to let them know the type of car seat that was damaged in the accident, and they will provide reimbursement to cover it. Insurers typically pay for a replacement that matches the quality and type of car seat damaged in an accident.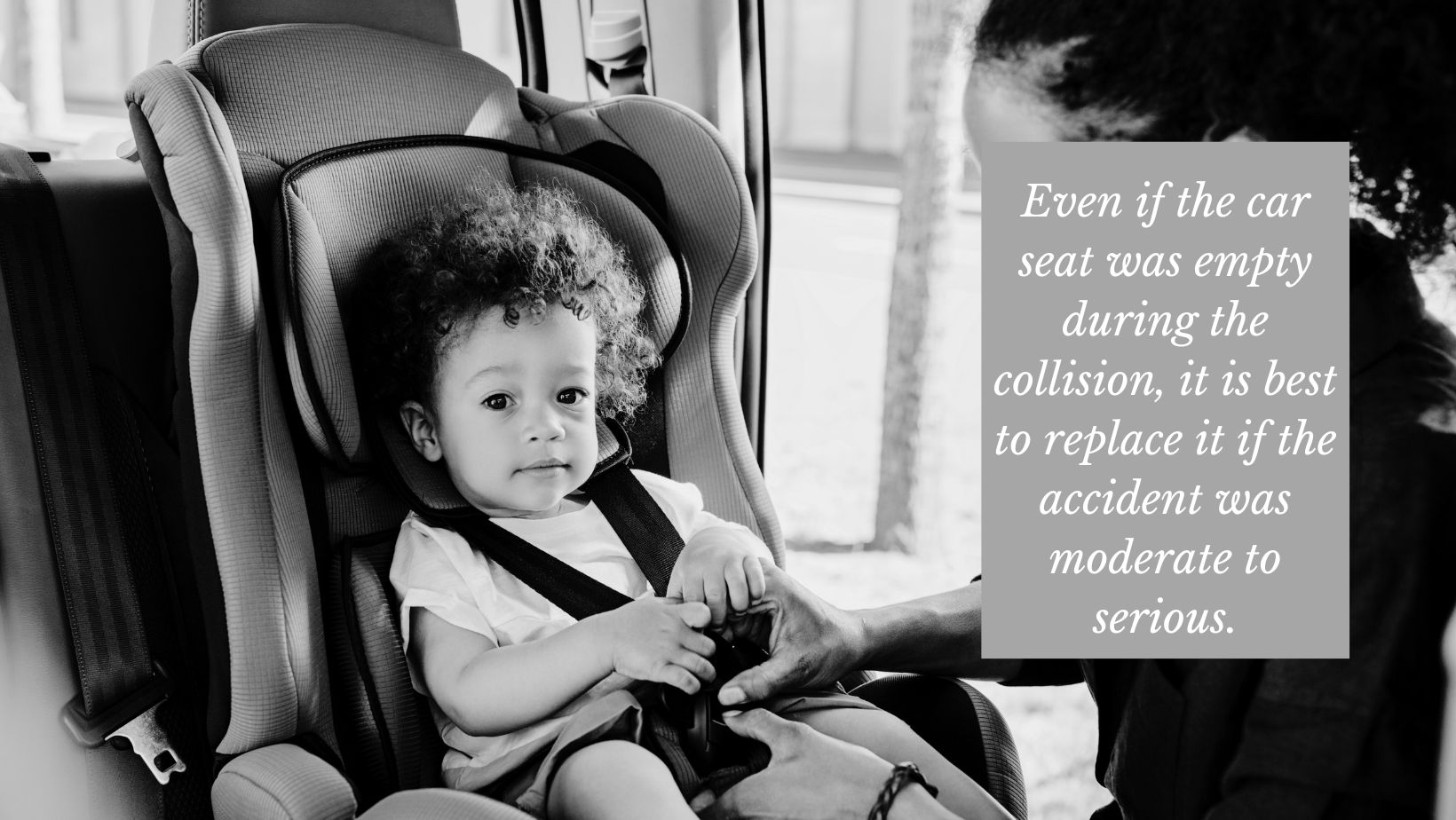 What if My Child Wasn't In the Car During the Accident?
Even if the car seat was empty during the collision, it is best to replace it if the accident was moderate to serious. Energy forces can cause the plastic in the car seat to weaken, compromising safety. 
What Are the Car Seat Laws in New Mexico?
New Mexico car seat laws are based on a child's age, height, and weight. To keep kids safe, parents should follow the car seat requirements broken down below:
Children up to one-year-old and up to 20 pounds must be in a rear-facing car seat, but it is recommended that children up to 35 pounds ride in rear-facing seats.

Children under the age of seven, regardless of weight, must be restrained in an approved child safety seat. This requirement expires on their seventh birthday.

Children between the ages of seven and twelve must ride in a booster seat until an adult seat belt fits them correctly.

Children who weigh less than 60 pounds, regardless of age, must be restrained in an approved child safety seat.
New Mexico has a primary child restraint enforcement law. If the police stop a vehicle for any reason and children are not properly restrained, the officer can issue a ticket.
The Importance of Seeking Medical Care for Your Child in a Minor Accident
Even if there is no visible damage from a fender bender and everyone involved seems fine, parents should have young children examined by a medical expert soon after the crash. Babies and young children can't always tell us if they are feeling the same things adults feel after accidents, such as headaches, backaches, neck pain, and numbness in limbs. Instead, excessive crying, loss of appetite, and sleeping more than usual are all warning signs of injuries in children. A doctor will be able to tell whether further tests should be done and deliver a treatment plan if necessary. 
Kane Can Deal With Insurance Companies After An Accident
Having a child in the car during an accident can be overwhelming. Not only do you need to comfort your child and care for their injuries, but you must also seek care for yourself and get your car fixed. You must also wonder how to pay for it all – especially if you have to take time off of work. No matter who was at fault for the accident, Kane Personal Injury attorneys will negotiate with the insurance companies to ensure you get the maximum payment you deserve. Contact us today to schedule a free, no-obligation consultation.